HYDRAULIC STEERING SYSTEMS
Get
10% OFF
on Hydraulic Systems with the coupon code: hdx10
The Gobbo family has more than 50 years of experience in hydraulic systems. Specializing in the manufacturing of hydraulic systems for the aircraft industry, the company in the past has supplied players such as Fiat-Avio, Agusta and Rolls Royce. That sense of purpose and mission has been always part of the Gobbo family's culture. The years of compassionate work are now the heritage for future challenges: we look for new opportunities in technology while retaining the key traditional elements. 
   ISO 10592
,,Packing is perfect, delivery too. Video showing how to assemble the puzzle is correct."
"This product was really easy to install without using instructions. Common sense is all you need. I hooked up to a 2003 30hp Johnson and the unit works great. No more steel steering cable."
,,Amazing quality! The bodies of the pump and actuator are made of very good quality materials. The piston moves instead of the whole actuator which is a better idea than the other way around like the competitors. The hoses and fittings are light years ahead of what is used with other brands."
"I gave it 5 stars because the steering kit deserves it. Shipping was amazingly fast. Back to the kit. The helm is pretty simple to install. I used a 3.25" hole saw and .25" drill bit for the mounting holes. Worked perfectly."
"Looked at some of the other systems and the Hydrodrive looked to be a much better built system. It's well built, before i bought the hydro drive i had a few questions and Hydro drive responded very quick with a answer.. yes i would purchase again."
"I put this system on my 185 Tracker bass boat. The system works as advertised and completely eliminated torque steer. It was easy to install and bleed out. I am totally satisfied, the instructions were easy to read and I was done in about 3 hours."
"I would recommend their product to anyone because of the ease to deal with hydrodrive and because of the quality of their products."
"This equipment is top of the line in manufacturing and quality. Easy installation and works like a dream… VERY pleased with this product!"
We made a professional video, showing how to install Hydrodrive® Hydraulic Steering systems.
Follow the video step by step and you shouldn't have any problem with it. If you have any questions about the installation process, please contact us and we will be happy to help you: info@hydrodrive.eu
News
Visit us at the METSTRADE on 2022 Nov. 15-17.  The show is the world's largest trade exhibition of marine equipment, materials and systems. We will introduce
Read More »
News
At the end of 2021, we launched a new easy-mounting steering system the WTS family with slider cylinder. Those kit are supplied with the horns
Read More »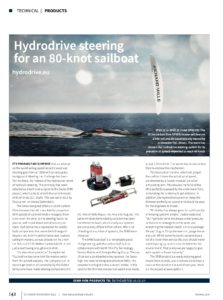 News
It's probably no surprise that an attempt on the world sailing speed record should use steering gear from an OEM with an aerospace background. Meeting
Read More »